Diverse Machinery offers many different types of used miscellaneous fabrication equipment from roll forming machines, turret punches, sanders and grinders and more. Take a look at what we have in stock and if you don't see what you are looking for contact us and let us know. If we don't have it, we can find it.
Current Used Miscellaneous Fabrication Equipment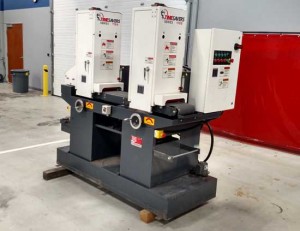 Used Timesavers Dual Head Wet Deburring and Finishing Machine
Diverse Machinery currently has a used Timesavers dual head wet deburring and finishing machine for sale. This machine is equipped with dual infeed and outfeed holdown rolls, centralized control panel, hour meter, air knife parts dryer, and a variable speed conveyor drive. See below for more specifications and details on this machine. Click here for more information.