Diverse Machinery offers used sheet metal shears for the sheet metal fabricator. We offer different sizes and configurations and if you don't see what you are looking for, contact us and let us help you find it.
Current Inventory of Used Sheet Metal Shears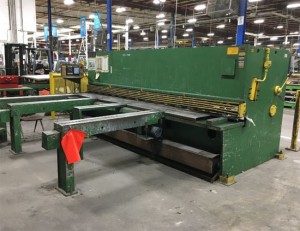 Used Wysong Shear
Diverse Machinery currently has a used Wysong hydraulic shear available. This hydraulic shear comes with 48″ powered backgauge with automatic flip up, adjustable stroke length, and adjustable clearance. See more specs and features below.Click here for specs and information.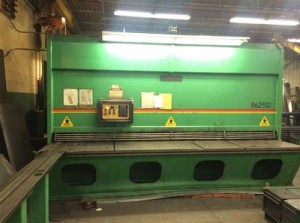 Used Accurshear Sheet Metal Shear
Diverse Machinery currently has a used Accurshear 5/8″ x 12′ metal shear available for sale. This machine was manufactured new in 1994 and includes a 10′ left hand squaring arm and ball transfers in the squaring arm and table. Click here for full specifications and features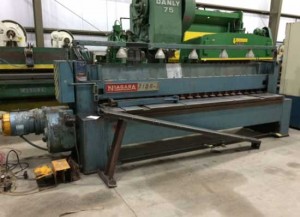 Used Niagara Shear 10 foot 3/16″ Capacity
Diverse Machinery currently has a used Niagara mechanical shear with a 10′ squaring arm, front operated power backgauge with a capacity of 3/16″ mild steel.